02-20-2021, 09:41 AM NYT asks you to stop thinking critically, seriously
https://brandnewtube.com/watch/nyt-asks-...ih9CF.html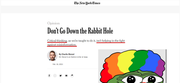 What can you even say at this point?   
TLDR: The New York Times put an opinion piece out Feb. 18 claiming you should stop thinking critically in order to combat misinformation online.   
If you remember my video almost a few months ago I covered an article where they claim a study shows following government guidelines and wearing a mask consistently is better for your mental health and well being. If that isn't ridiculous enough, now you have this.   
⁣https://web.archive.org/web/20210219203251/https://www.nytimes.com/2021/02/18/opinion/fake-news-media-attention.html     
⁣https://www.news-medical.net/news/20201224/Researchers-find-correlation-between-consistent-mask-wearing-and-improved-well-being.aspx       
⁣https://www.blacklistednews.com/article/75630/google-has-10000-employees-censoring-youtube-videos-some-of-them-starting-to-believe-conspiracy.html