Yesterday

, 11:17 AM RE: Beyond the Fringe Dog Thread
Yesterday and today he was able to go and see some of his doggy buddies at the park because he's all better now. 
18 months in a couple of days, so sharing a new pic before I put him into the bath.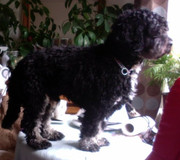 Some people 

embraced big pharma to change nature whereas I listened to Jesus and embraced nature to improve the change. The heavenly Father said, "This is my daughter in whom I am well pleased". 18.1.2020.