02-03-2023, 06:19 PM RE: What Are You Reading / Recommend a Book (This post was last modified: 02-03-2023, 06:21 PM by ELIAKIM. Edit Reason: update )
Now that I've finished reading "Forever Dog", it includes a couple of stories of dogs living 20 and 30 years and how their pet owners achieved it. Also updated the dog thread because in the news this week was a dog from Portugal that is now the longest living dog over 30 years. 
I've just ordered DROP ACID and it's about URIC ACID, written by a doctor that has focussed in on the subject matter. I was quite impressed with the interviews with him on YT so I've bought the book on ebay for £7.99.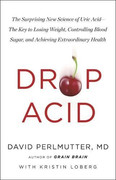 I received a book back yesterday that I had lent to someone. I still have to finished reading that too. That's called DIRTY GENES by Dr Ben Lynch, he's impressive too. I bought it due to my interest in histamine. Lynch is a cellular and molecular biologist and he also has a doctorate in naturopathic medicine. His passion for identifying the cause of disease directed him towards nutrigenomics and methylation dysfunction. He research's, writes and presents on the topic of MTHFR, methylation defects, and genetic control. His website is
www.drbenlynch.com
Every time I tried to read this book when I first bought it, my dog would sit on my chest between me and the book. However, now I've found a way that we can both be happy when I'm reading, I wait till it's bedtime and I can read a few pages prior to sleep> He's happy because he has settled down for the night. There is so much new information packed into this book, it boggles my brain trying to take it all in. Sometimes I wish I had a brain like intellectuals. 
Some people 

embraced big pharma to change nature whereas I listened to Jesus and embraced nature to improve the change. The heavenly Father said, "This is my daughter in whom I am well pleased". 18.1.2020.