10-14-2021, 10:08 AM RE: Ye Olde Cock & Bull Tavern ~ Adventures Surfin' Thru the Time Rift ~ Welcome!
(10-14-2021, 05:15 AM)

DaJavoo Wrote:

(10-14-2021, 04:11 AM)

Full Throttle Wrote: Morning Patrons 

Opening the door this morning to let the dog out
and have a smoke on the front porch, I hear for the 
first time in a few years now, A Rooster crowing

Made me smile, I'm home for sure  

Been having a little trouble lately believing I'm really 
back on the homestead . 

Long day ahead of me, gotta hike to the laundromat
with a duffle that feels like it weighs about 30 lbs.

Place is only 3 miles away, but on foot, at my age.
(Heavy Sigh)  No rest for the wicked. 


A chore best done in the cool of the mornin'. 

FT, not to pry ~ but are you able to drive a vehicle or a bicycle?

Perhaps one of those three-wheeled bikes that can carry a load?

The C&B would be happy to help one of its own.


@
Full Throttle
,
I don't know if a tricycle would interest you? Here's my experience with them. Keep in mind, I'm 5ft 3!
I purchased the cherry red trike at first, such a beautiful color, but had trouble with my feet reaching the pedals, so returned it to Walmart, with no problem.
Reordered, getting the silver one, for those that aren't tall, or up there!
I know there is a weight limit, I think it's 250 pounds, maybe a little more, but that's plenty of leeway for most. You just have to add in your weight for a pup, or a bag of clothes!
I carry my little dog back and forth when I have to go check my mail at the boxes at the apt.
This would be a lot faster on a trike, can carry small loads, or a bag at a time. Sure beats walking in heat, or cold weather!
Just something to think about.
Silver,
If they don't open up, just do a search on
https://www.walmart.com/ip/Schwinn-Merid...hbdg=L1600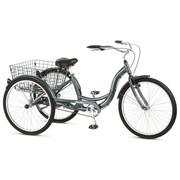 Cherry red,
https://www.walmart.com/ip/Schwinn-Merid...y/12016722